Description
Seadog Galvanized Screw Pin Anchor Bow Shackles comes in several sizes:
1/4″ – 147806-1
5/16″ – 147808-1
3/8″ – 147810-1
Screw Pin Anchor Bow Shackles:
With their rounded shape, Screw Pin Anchor Bow Shackles are designed to handle many different types of load from any direction. Features a screw pin closure for quick removal, making them ideal for rigging applications where fast and/or repeated connecting and disconnecting are required. Ideal for joining anchors to mooring chain. Great for anchor kits. Now available as pairs in aftermarket packaging. Constructed of hot dipped drop forged galvanized steel.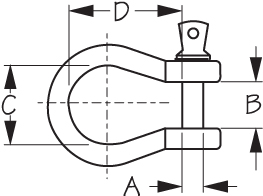 Sold individually.